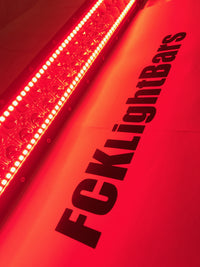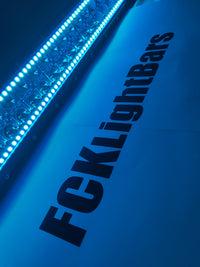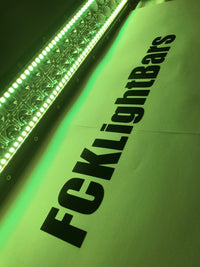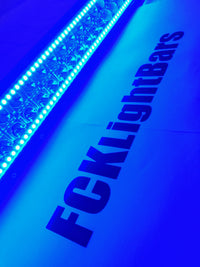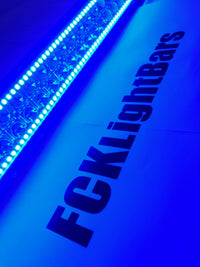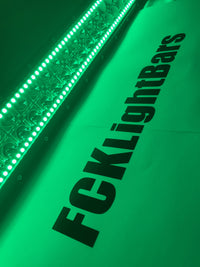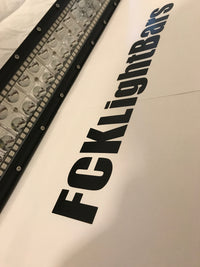 FCKLightBars
RGB Series
(833)325-3250
ALL BARS ARE HAND ASSEMBLED PER-ORDER, RGB Halo is installed inside the housing. Lightbar Retains FULL Performance Functionality. 
The new S1-RGB Series is finally here. The S1-RGB is the first addition to our new RGB inspired line-up. We have taken our proven Standard Series FCKLightBars and retrofitted them with the best in RGB Wireless Technology. The S1-RGB series shares the same LED configuration with our previous lines ensuring that LED Performance is still our first priority. The S1-RGB Series is built on the Standard Straight Series platform that has been proven to offer durability and performance.
**Traditionally customization of this kind was left to retrofitters who charged a premium for the labor-intensive job of dismantling and assembling these light bars. Unfortunately this kind of customization leads to factory warranties being void, due to the unauthorized work. However by purchasing your S1-RGB Series bars directly from us, we guarantee not only our FCKLightBars but also the RGB Halos that we have installed to be covered under our Lifetime Warranty.
** S1-RGB Series Lightbars **
12 [RGB]Color Combinations
Wireless Controller Included
On/Off Standard
Strobe Module Included
LED Lightbar performance data is similar to Standard Series [Built On Same Platform]
** Price listed is for a completed S1-RGB Series Lightbar.